DataAudience -
your key to data driven advertising
Self collected data in accordance with European privacy laws, multiple data sources for 360° personal view, highly relevant audiences and a proper technology setup - this is what DataAudience stands for!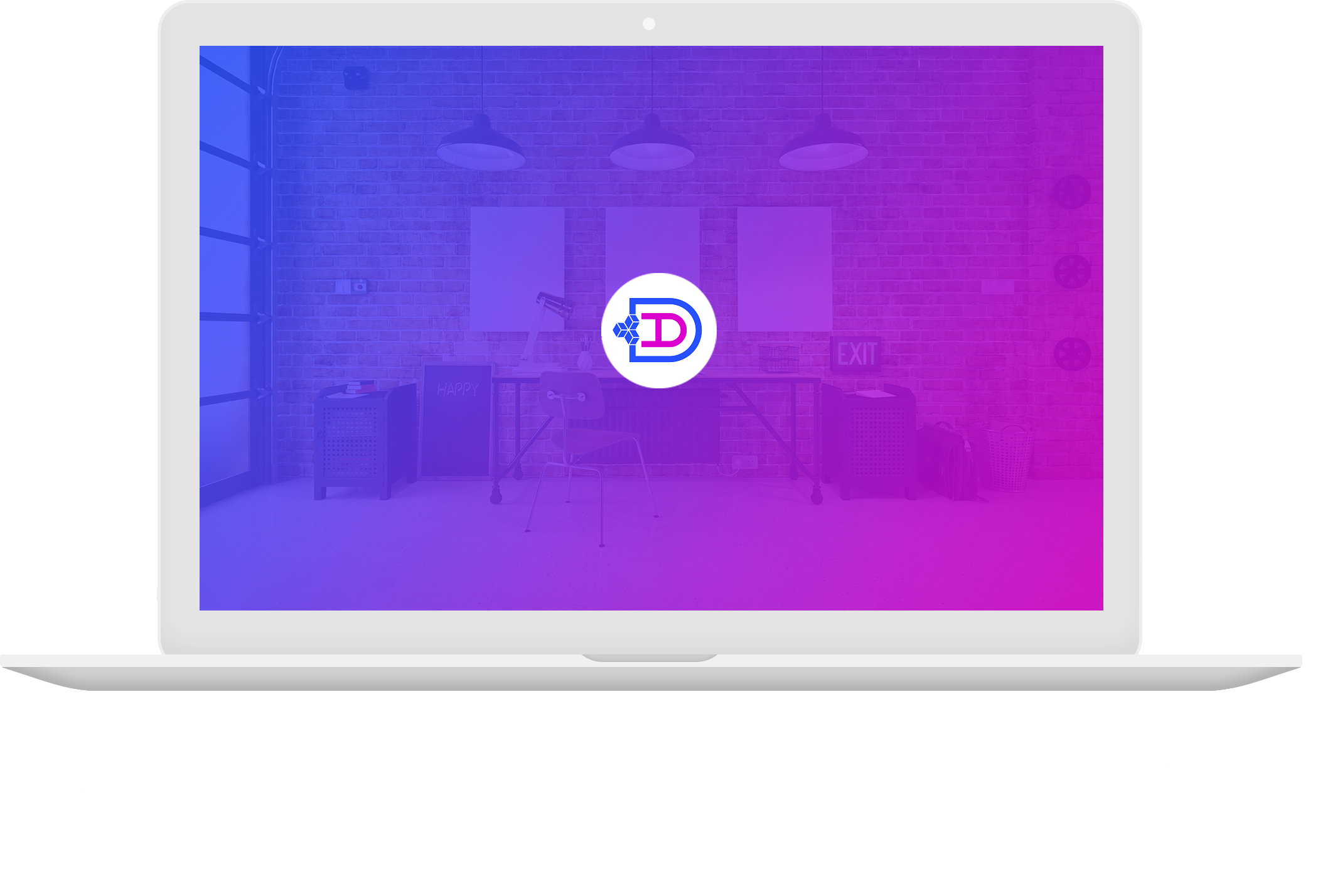 Who We are
We Are DataAudience
Backed by years of experience, setup with the best technology suite and driven by highly relevant audiences we gain increased attention for your campaigns and maximize your performance
Do you rate a person just by the first impression? We do not! In our oppinion you need multiple information from different sources to get a detailed 360° view on a certain audience. Relying on just search data, demografic data or 3rd party data would fudge the result. DataAudience is collecting data from different sources, breaking up the data silos and combining it to relevant audience profiles. So we can predict user behavior, fill up your sales funnel and increase your revenues.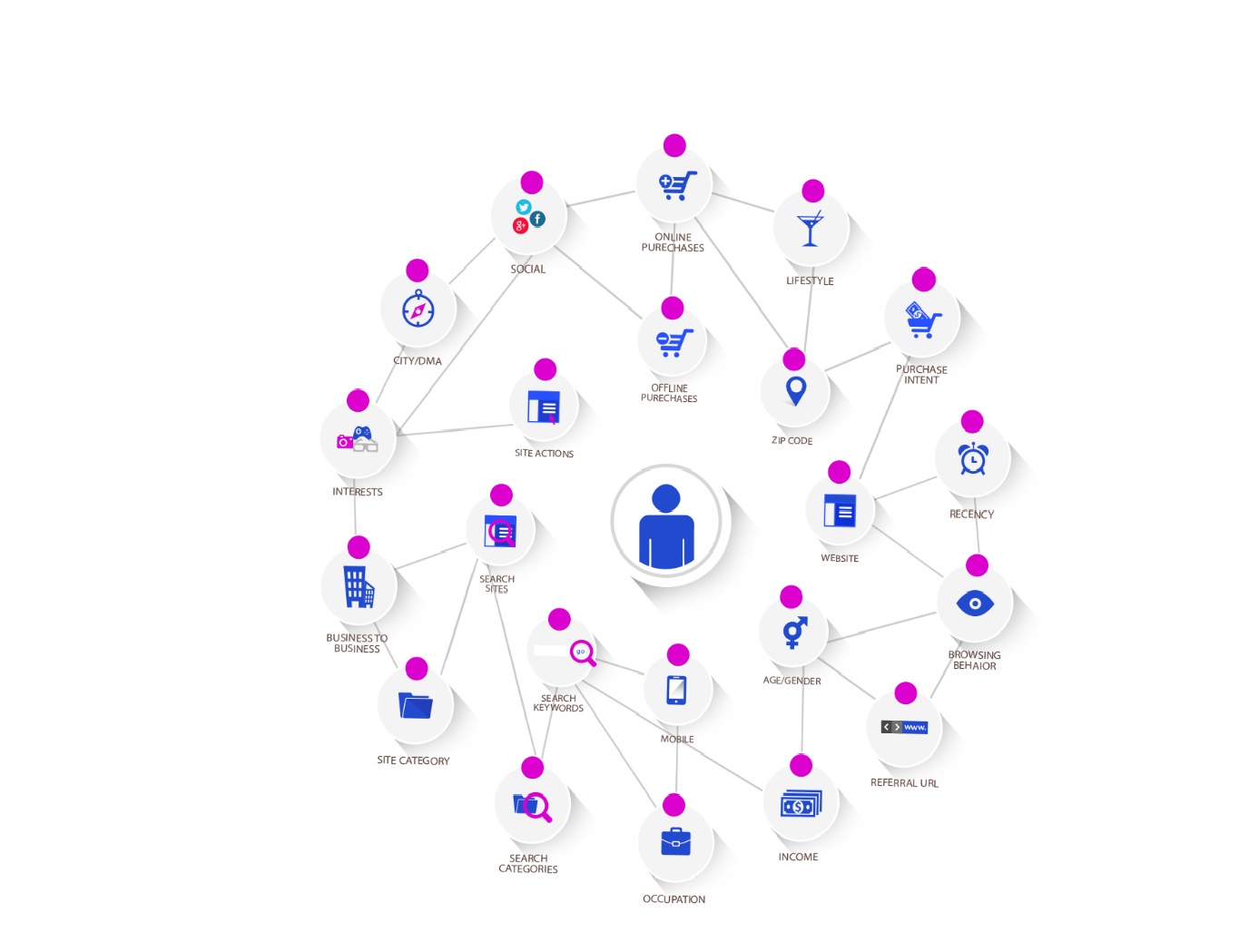 Cross Device
Today's onliner are not just using one, but many connected devices. With one person owning a smartphone, tablet, Laptop and Smart TV the cookie tracking technology would recognize them as four differnt users. In order to gain a comprehensive view of users across devices we use our cross device audience management, based on deterministic data and probablistic algorithms. So we are able to reach your audience in every stage of the sales funnel
Cross Channel
To reach your audience in all situations during the customer journey you should not miss a change to engage with them. Therfore you need to be programmatically connected to your audience through different kind of Channels. We are not just using public and private marketplaces. We engage with your audiences also through programmatic native advertising, digital audio inventory or digital out of home. We reach your audience always in the right moment!

Cross Country
You are expanding your business to foreign countries? We follow our customers througout the world and make you feel home. With our programmatic setup we are able to reach your audiences all over the world. Based in Germany, considering German privacy policies we serve ads in 54 countries through our public auctions and our private marketplaces. Crossborder traffic, premium inventory or private deals - wherever you go, we are already there.
What We Offer
Data became the new Oil for digital marketing. But as simular to oil data needs to be processed to become really valuable. You need to open up data sources, start collecting data, combining it with other valueable sources and use it to recognize the current status in the sales funnel and to make your ads and channels more relevant for your potential users and customers. So we reach your prospects across all digital touch points during their customer journey.: from the initial contact via a premium display ad via a Facebook Newsfeed ad and a radio spot to personalised call-to-action banners with the relevant product recommendation leading to the purchase.
With Data Audience we are using data to define which is the right time and place to engange your buyer personas.

Prospecting
Prospecting is any activity to target audiences, who have not yet visited your shop and is the key to sustainable sucess. The Programmatic buying made it easy to focus on these certain audiences at scale and to engange with them more efficiently. But before start prospecting campaigns it is important to know your target group and to define specific audience sets. By adapting the content of your ads to these audiences you can increase the relevance and sucess of your activities.

Lookalike Modelling
When it comes to drumming up new business, the biggest challenge will be to reach the right individuals. Lookalike Modeling is a strategy to reach new prospects that look like a marketer's best customers. Therfore lookalike modeling is analyzing the digital body language of your most valuable customers and using this to target matching prospects. Since these new target audiences are quite similar to your existing customers, we reach extraordinary performance and fill the funnel effectively.
Audience Targeting
You know exactly whom you want to target? You have a clear view on your audiences? Based on your specific requests we build individual target audiences, based on demografic data (gender, age), interest data, shopping behavior, CRM data, website behavior and actual buying intend.
We combine 1st, 2nd and 3rd Party data from many different sources to get an exact buyers persona. With individual content we increase the relevance and engagement with your potential clients.
Retargeting
Only a small percentage of users is buying immediately on your website. 97% are leaving your shop without any conversion.
With our retargeting technology we are collecting many insights about these users and provide them with them most relevant banners. We seperate regular buying people from windowshoppers, big spenders from incidentially reached users. For each audience we setup individual business rules to provide everybody with the right ad. So we increase your revenues with already existing users and customers - cpo based, dynamic creatives, individual business rules…
Data & Sources
To get a 360° Impression of your target audiences we tear down the data silos. Combining data from website behavior, shopping behavior, with demografic data and search data in our DMP allows us to create exact audiences to increase the relevance and user engagement. Get a personal view on your prospects and clients.
Personal Data
Gender, Age Range, Religion, Income, Geo
Shopping Data
Average Shopping Cart value, Spendings per Month, Frequency
Product Data
Recently viewed or bought products, Brands
Sales Cycle
Upper Funnel, Lower Funnel, Loyalty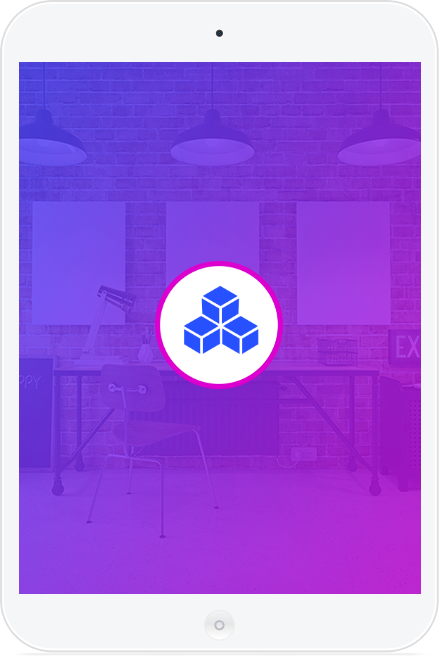 These data cannot just be used for display advertising. But also to customize your website content, to enrich your social media and mobile campaigns. Just get in touch with us!
Search Data
Search Terms, Products, Brands, Colors
Interest Data
Recently visited website categories, Social media data
CRM Data
Customer Lifetime Value, last Order
User Engagement
Last clicked banners, Basket Products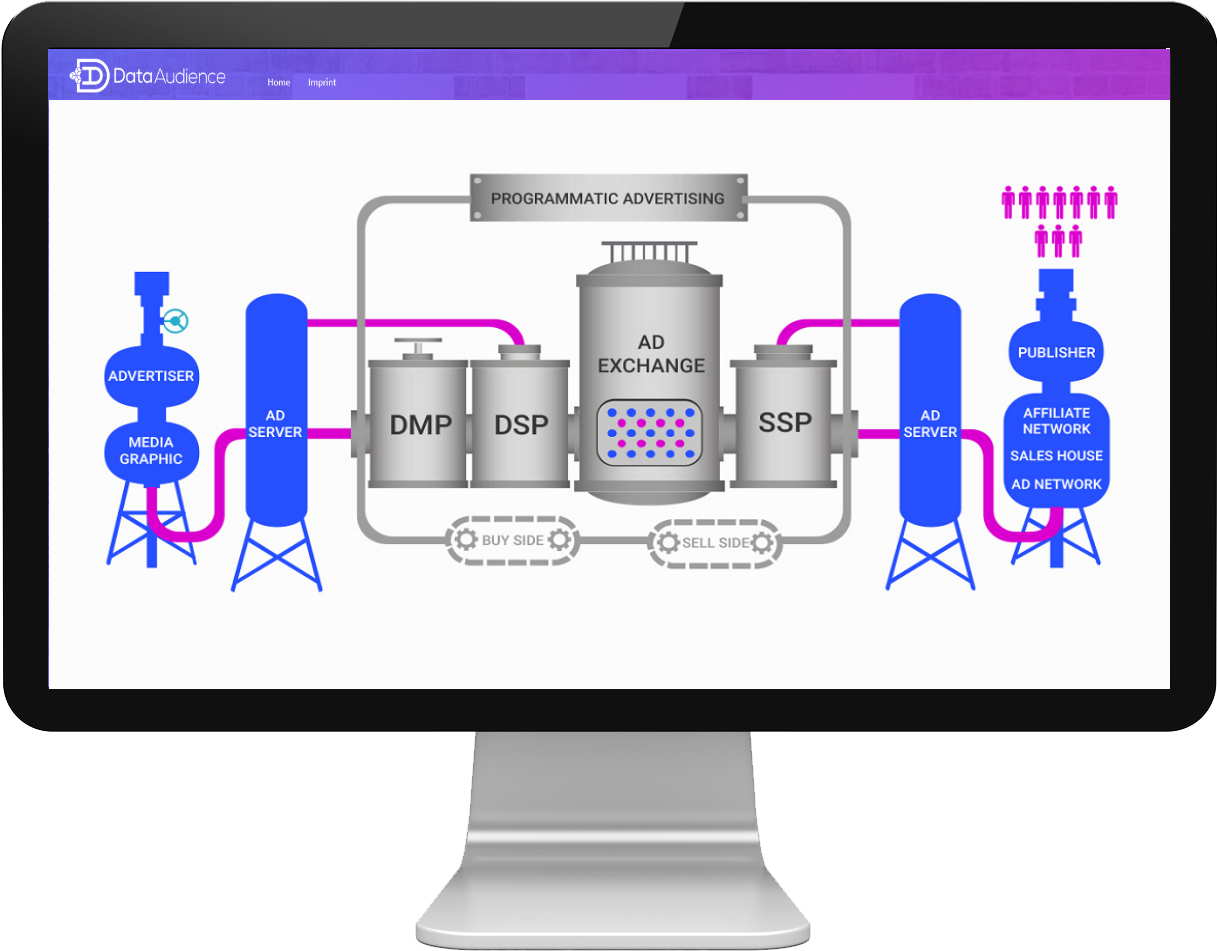 THE MACHINE
The Core of our business is the proper technology setup. The combination from Adserver, DMP and DSP allows us to collect and manage data, deliver complex campaigns using dynamic creatives based on business rules and buy inventory on almost every website in the world!
Adserver
Data Management Platform
Demand Side Platform